Document Backup
Document Backup is an easy-to-use solution intended to automatically backup your important data to a local or network hard disk, CD, DVD, Blu-Ray or HD-DVD disc or even to an FTP server. Compressed backups (in the zip format) save space and incremental backups save time.
Now Document Backup can handle files that are open by other applications. Even if your files are locked by the operating system and can't be read by a regular backup utility, Document Backup will be able to read and back them up through the VSS subsystem, available in XP and above. Read more on
Backing up open/locked files
.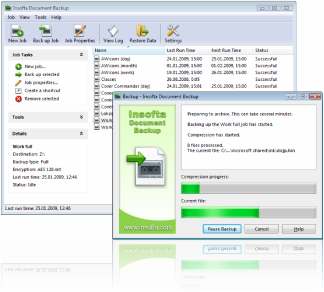 Encrypting your backup copy will keep it safe and unavailable to an unwanted eye. Nobody but you or persons you authorize will be able to access the backup data.

Thanks to the built-in scheduler, you can stop worrying about the safety of your data. Document Backup makes backups of your data in a fully automatic mode.

The convenient setup wizards of Document Backup make the process of creating backup copies easy even for a beginner, but advanced options are also available.
Main Features
Compressing data to the Zip format.
Backing up to local and network HDD.
Automatically splitting archives to several disks if necessary.
A system of backup items will allow you to flexibly customize the backup schedule.
Free technical support.
Pricing
Users
Price per user
Total price
1

$

29

$

29
2 - 5

$

24

$

48 -

$

120
6 - 9

$

19

$

114 -

$

171
10 - 49

$

14

$

140 -

$

686
50 - 99

$

10

$

500 -

$

990
100 and more

$

8
from

$

800
Site license
from

$

2000