Working with backup log
Backup log allows keeping an eye on your backup operations. If everything goes well, the log will tell you that. If something goes wrong, you will find that data in the log file too.

To open log file: click on the View Log button on the toolbar at the top or on the corresponding item on the taskbar on the left of the program's main window. You can also select the View Log item on the Actions menu.

In the Log window:

To view details of a log session, click on that session in the left frame. The details will appear in the frame on the right. The icons by the record will notify you visually of the success or failure of a specific operation.

To clear the log, select the Clear Log item on the Log menu.

To close the log window, select the Close item on the Log menu or simply hit Esc on the keyboard.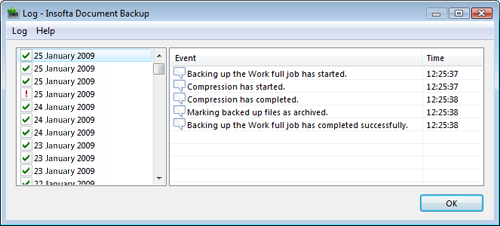 ---